Why Enter The Wedding Industry Awards?
|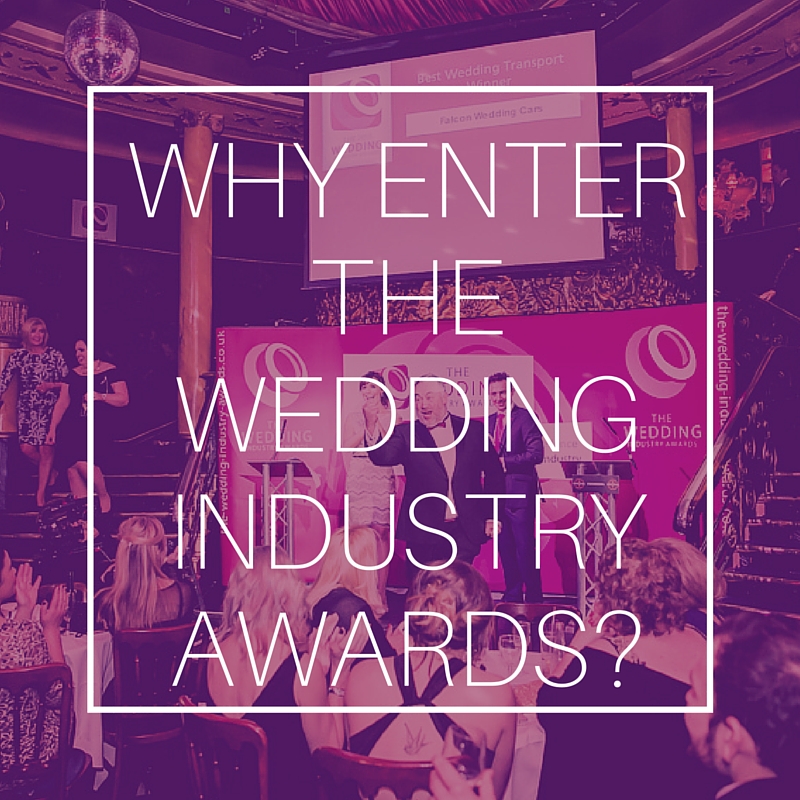 With less than a month left to take part in The Wedding Industry Awards 2016, you've still got enough time to put together your entry and show the world why your wedding business is not only brilliant, but beloved as well. And if you're wondering why on Earth you'd want to spend half an hour entering the only independent regional and national awards in the industry, let us enlighten you…
Prestige
It doesn't matter whether you end up on stage collecting the overall national award for your category or find yourself regionally shortlisted: simply by entering TWIA you are holding your business up as an example of best practice.
Since TWIA are open to all wedding industry professionals across England, Wales, Scotland and Northern Ireland, it doesn't matter whether you are a one-man band or a sprawling company – we try to make as level a playing field as possible in order to recognise simply what is best in the wedding industry, not what is biggest or most established. As such, you may find yourself in the company of little guys and giants alike.
Entering TWIA is a sign to yourself, your customers and the rest of the industry that you're serious about what you do. It's a vote of confidence in yourself. The objective of TWIA is to create a kitemark of excellence within the industry and by entering the awards you are sending a message to the world that you think your business is worthy of that accolade.
Previous participants have waxed lyrical about how their affiliation with the awards has been a selling point for their clients. Being part of TWIA – whatever stage you reach – is a vote of confidence in your business and an endorsement for your customers to rely on.
Networking
We know by now that those revellers who choose to join us for the awards presentations throughout November and at the national awards ceremony in January enjoy the opportunity to meet other likeminded, passionate wedding professionals, but the relationships begin long before that starry night.
Although the opposite could very easily have happened, we've enjoyed watching how regional alliances have been strengthened as suppliers support colleagues they know from their own locale. Sometimes this takes the form of cross-promotion online, other times it involves collaborative working and referral schemes.
For many wedding industry professionals, particularly those who work alone, it can be a fairly solitary life. Taking part in The Wedding Industry Awards undoubtedly creates a sense of belonging and you may be surprised to see just how heartily your fellow suppliers get behind you.
Previous TWIA winners have talked about how their awards have given their businesses more visibility within the industry and fostered collaborations with other suppliers. For clients, there's nothing better than tapping into a network of accredited, talented suppliers and you can provide that network by working with others who you meet along the way.
Advertisement
When you enter The Wedding Industry Awards, your business will be listed on our website for the whole year of the awards. It remains there regardless of what stage of the process you get knocked out. It is visible to the legions of brides and grooms looking for suppliers, of which we had 10,000 clicks per month last year sourcing their wedding professionals.
Along with our media partners, Guides for Brides, Archant Bride and The Wedding Affair, we seek to push the awards to a wider audience, allowing those who have no idea where to start with their wedding planning to use TWIA as a source of referral.
We love to publish news about our award winners for all of their potential clients to see, whether this be in our 'Winners Words' blog series or linking to news stories and media pieces across our social networks.
TWIA entrants are also issued with badges for their websites, indicating their commitment to the awards and signifying their success within the process. Whether you use it on your marketing literature, your Facebook and Twitter pages or your website, this is a very visual stamp of approval that allows potential customers to understand your commitment to your business.
Client Feedback
The main thing we hear from past TWIA entrants is that the experience was worthwhile alone for the access they are given to the voter comments that their clients have left. As this feedback is totally anonymous, it allows clients to be completely honest and unbiased – something that is hard to elicit when you are asking for testimonials yourself.
This information has been invaluable, according to past participants, in understanding how their clients view their business and understanding what their customers want from them. We're hearing that this feature of the awards is becoming an essential business building tool as it allows entrants to look objectively at their product, brand and customer service.
Peer recognition
In addition to knowing what clients think of your business, TWIA also offers the opportunity for your services to be assessed by a team of expert wedding industry professionals. Our judging panel take great pride in applying their years of experience and knowledge to sifting through entrants and evaluating what they bring to the industry as a whole.
For those who make it on to the regional shortlist and those who go on to win awards, they do so with the knowledge that those at the top of their chosen fields have seen something unique within their businesses. Whilst every wedding supplier should seek first and foremost to exceed their customer's expectations, they may find that in doing so they also exceed the demands of their colleagues and mentors within the wedding industry.
The Wedding Industry Awards are serious in our commitment to recognising and rewarding excellence within this sector; the question therefore is how serious are you about your commitment to providing excellence  to your customers?