How To Choose Your Wedding Accessories & Headdress
|
We thought that there's no one better to ask for advice on how to choose your wedding accessories & headdress than the eponymous Hermione Harbutt, winner of the 2013 Best Wedding Accessories award. Having launched her business five years ago, Hermione has since bedazzled hundreds of brides for their big day and knows a thing or two about selecting the perfect wedding headpiece. So without further ado, let's get down to the business of how to pick your bridal accessories.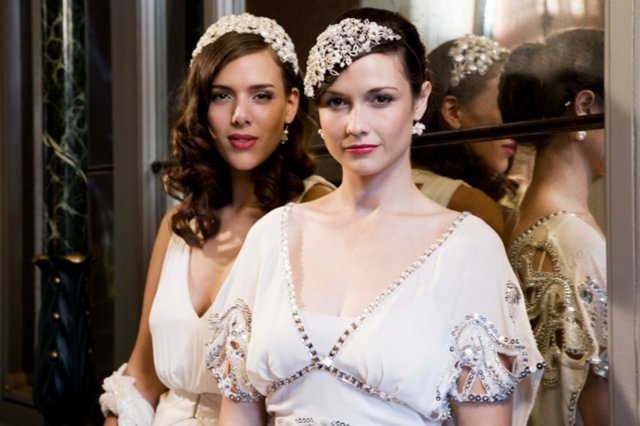 Take inspiration from your gown


Have an image to hand of your wedding dress when you go shopping for your accessories. This will give your accessories designer an insight into the aesthetic of your look and ensure that they can match or complement the detail. Here at Hermione Harbutt, every piece is handmade individually for each bride, allowing plenty of options for beautiful, unique pieces that suit the bride's gown, personality and hairstyle.

Be open-minded


It's ok to go looking for your wedding hair accessories without knowing what hairstyle you're going to have; sometimes choosing your headdress first can help you decide on your bridal hair style. If you are already set on a specific do, why not have a headdress designed to complement it?
Be brave
Whilst you absolutely need to feel comfortable and confident with your choice of headdress and accessories, don't be afraid to try larger styles that are often more striking and will help you make a real impact with your look.
You can wear a veil
Yes; you can wear a headdress and a veil at the same time! In fact, you'll find that they work beautifully together, so do make sure you try on your chosen headdress and veil with your dress to help you get the balance right.

Backcomb like crazy


Many brides worry that wearing a headdress will mean they have to select a flatter hairstyle or that the weight of their headpiece will squash a big do. In actual fact, you'll find that nearly all headdresses can be worn with a voluminous do, so make sure you explain your big hair aspirations to your accessories designer.

Colour




Incorporating colour into your wedding headpiece or accessories is a wonderful way to add interest to your outfit. Soft blush tones or champagne hues look gorgeous alongside ivory gowns and can really complement your hair tone. Truly brave brides might want to try a dark gold or even a black jewelled headdress, especially if you're considering a monochrome theme. There are no rules after all and if you feel fabulous then that is reason enough to throw convention out of the window and choose something a little out of the ordinary.

Timing
Ideally you need your headdress and accessories to be ready in time for your hair trials and final dress fittings. Having the piece to hand makes life so much easier for your stylist, and of course it's lovely for you to try everything on together before the big day. As such, you will need to place your order with your accessory designer at least 3 months before your wedding date, and ideally 6 months beforehand if possible so that everything can be ready in good time for these final appointments.

Longevity


Unlike your wedding dress and veil, you can wear your headdress and accessories time and time again. Pearls and crystals can be easily co-ordinated with other outfits; you can team up your headdress with a monochrome dress to finish off a wedding guest ensemble; or you can wear your accessories to a special night out to remind you of your wedding and make yourself look and feel fabulous.

 Money Matters


Working with an accessories designer allows you to have bespoke pieces made within you budget. Whilst you should be open about how much you have to spend, try not to be too hard on the budget for your accessories because don't forget that these are important pieces that you will treasure for a long time. Your headdress and earrings in particular will be in every photograph, so it is really important that you love what you have chosen to wear in your hair and close to your face.
Don't Forget Your Maids
It's really lovely when a bridal party all have the same thread of style, especially if that's reflected in the hair accessories. You don't have to go all out to get your bridesmaids full headpieces, but even a few hairpins in a similar style to your headdress scattered through their hair will be a beautiful complementary finishing touch to your look.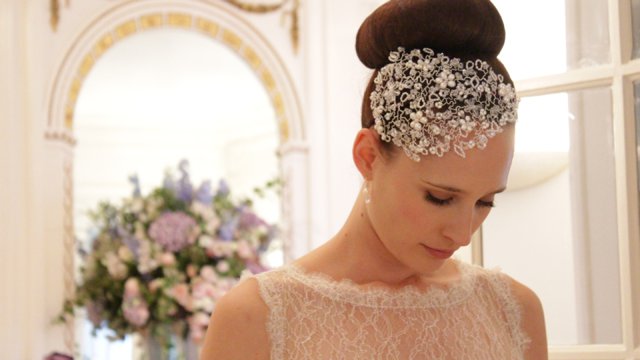 You can check out more of Hermione Harbutt's work on her website, you can like her Facebook page and you can follow her on Twitter for all the latest bridal accessory trends. All images used in this blog post are courtesy of Hermione Harbutt.