TWIA Success Story 6: Brian Mole
|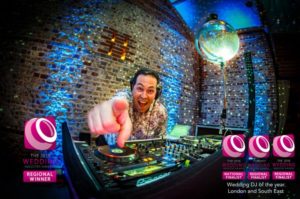 Winning the Regional Award twice, and getting highly commended on the national award has indeed been amazing for my business.  It brings plenty of recognition from venues and other wedding industry suppliers, which in turn brings more enquiries and that, of course, leads to more work.
The feedback from my clients, which is released at the end of the competition, is amazing, very humbling, and provides me with all the marketing material I need for the yer ahead.
Last year, I engaged a PR professional.  She sent out press releases to all the local media, and together we also targeted wedding venues which I have had on my radar for many years, but had no success in working at.  This has resulted in the local papers and Your Sussex Wedding magazine running news stories, Sussex Life running a 2 page feature about my business, and I am now proud to be on the approved suppliers list of 2 new venues, one of which is world class.  The news has also be seen by colleagues in the industry which is a great help!
TWIA has been a fab way to raise the game for all of us who take part.  It's something our clients love to contribute to, and very humbling to be recognised for the hard work we do.