TWIA Success Story 9: RockNRoller Hair
|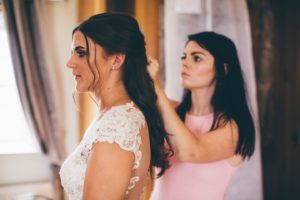 Since beginning my journey in the wedding industry 6 years ago I have followed The Wedding Industry Awards (TWIA) for a while and witnessed industry peers gain success from entering their businesses.
I must admit at the time of entering myself I said to myself am I mad, mainly because of a lack of confidence and feeling a little bit daunted but the passion for what I do day in day out surpassed the nerves and I told myself just go for it!
To say I was overwhelmed when I won the regional award is an understatement; I was like a cheshire cat for weeks! RocknRollerHair didn't exist 6 years ago. Starting a business from scratch and building up the brand myself to then winning this regional award meant the absolute world to me and the difference it will make to the future of my brand.
It was also a turning point that evening as I was at the start of being completely self employed so a big year for me to develop the business.
Since winning the award I have more than doubled my social media following, increased my bookings for 2019 & 2020 as well as enquiries coming in for 2021.  My bookings have extended UK wide and not just the East Midlands.  I have been asked to be in more photoshoots, styled hair for new editorial work with models, and spent more time networking with new suppliers across the region.
Through all of this I've made so many new friends, which above all else means so much when self employment can feel like a lonely world! My confidence has grown tenfold in my abilities and its enabled me to start up my own training sessions to begin my journey of teaching others wanting to start out in the industry.
I have no hesitation in entering TWIA again.  I think it a fantastic event to network with others in the industry, share stories, build your confidence, make new friends and of course have a good ole knees up!! I'd like to personally thank TWIA for having this fantastic platform and I look forward to the next event night!