TWIA Success Story 4: Kelly Hanks
|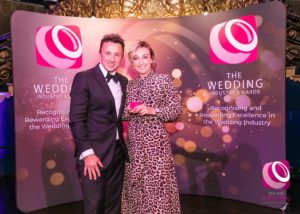 After years of not putting myself forward and telling myself 'there's no point in entering, i'll never even get shortlisted', last year was a real turning point for me. My amazing clients gave me the confidence to enter by constantly telling me how amazing I was at my job. Still reluctant to believe it I went for it and oh am I glad that I did!
Not only did I win bridal hairstylist of the year 2019 for my region (Yorkshire and the North East) I only went on to win a 'highly commended' award in the national finals. 2nd in the county.WHAT????
Gobsmacked, overjoyed, immensely proud does not even cover the feelings that came along with this accolade. I for once had stepped right out of my comfort zone to push myself forward and look what came out of it!?!
The support I have had from my clients, friends and family has been more than I could ever imagine. past brides, future brides all messaging me to congratulate me and new potential customers getting in touch because i'm now officially an award winner. My business is busier than ever, i work highly on recommendation and this just adds to the confirmation that any bride needs before they make a booking.
My confidence has soared. I remember being so nervous about doing a video and now i'm so much more pro active across social media, something I would never have done before.
What it has also given me and this is really key for me is new friends across the industry, who like me are freelance and don't have a team to pull from. Other people who also entered the TWIA and who all supported each other throughout the competition. We have been on courses together and speak frequently and this i LOVE. Everyone is so supportive of each other and i'm grateful for that.
I will enter this year's TWIA because not only did I thoroughly enjoy the whole experience but I will be forever thankful for the opportunities this has given me and my business.