One Month Left To Enter TWIA
|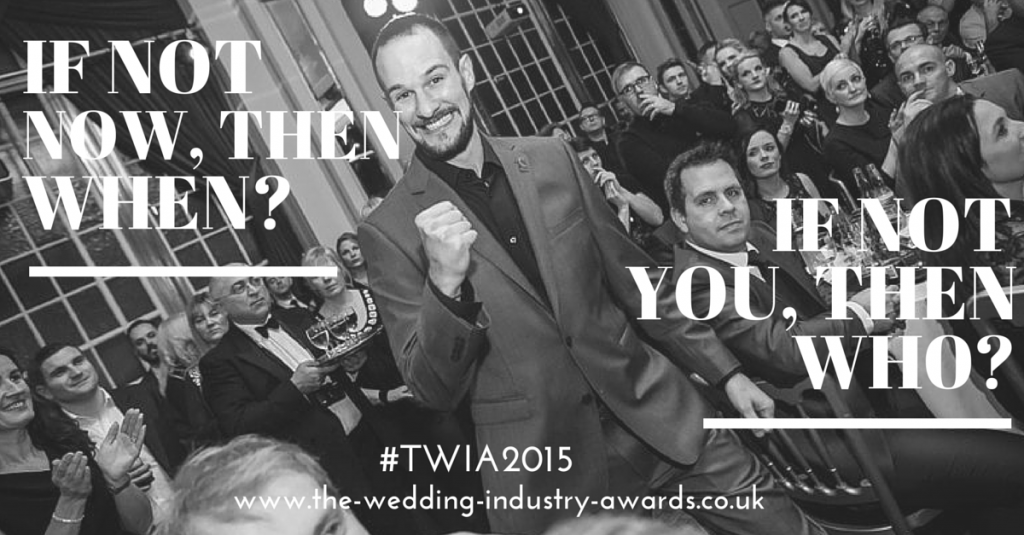 Precisely one month today, on 17th October 2014, entries will close for The Wedding Industry Awards 2015. We will be doing our best to canvas for last minute entrants, but why wait until the last minute? You can enter TWIA 2015 today and start collecting votes from your clients right away. 
We know that it's been a long, hot summer and that the last thing you've wanted to do in-between zipping from one wedding to the next is put on your PR head and put your best business foot forward. But now the nights are drawing in, the pace is slackening and suddenly your summer clients are adjusting to married life and you're wondering what's next.
It's time to think about how you can best position your wedding company going forward and we think The Wedding Industry Awards is the perfect vehicle to do that. Why?
By entering TWIA, you're showing prospective clients that you take your business seriously enough to be worthy of an award. Charlatans don't compete with the best.
Every entrant in TWIA is listed on our website directory, so prospective clients can find your services by geographical area or category of expertise, regardless of how far you get in the awards process.
Your business will be put in front of our panel of esteemed industry experts for judging. Want the leaders in your sector to know about you? TWIA is the perfect way to get on their radar.
You'll receive every single comment that your voters leave for you in their anonymous feedback. This unbiased, honest appraisal is the kind of consumer review big companies pay top dollar for. Think of it as the building blocks of your business.
We're introducing regional awards events in November at which we will announce the regional winners. These events will give you the opportunity to network with likeminded professionals local to you. Who knows what collaborations that could lead to…
So, go and make yourself a cup of tea. Think about the year you've had. Tell us why you love doing what you do. It's as simple as showing us your passion and letting your clients from the past 12 months tell us just exactly how good you are at your job.
What are you waiting for? Enter now, it won't wait forever.