Darren Campbell Magician, Best Wedding Entertainment 2013
|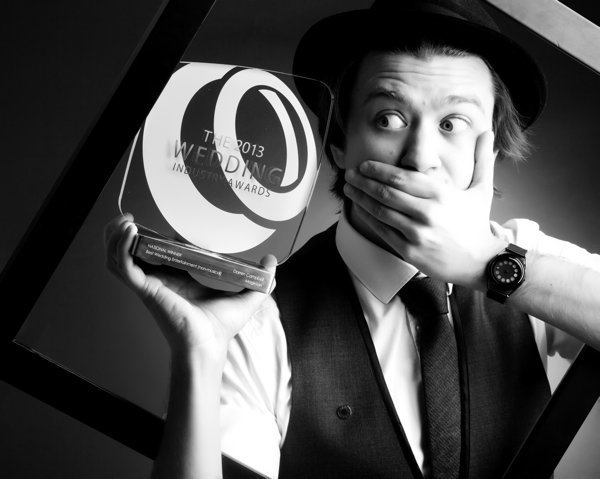 For a man who cites making people smile and laugh as the favourite part of his job, Darren Campbell was certainly all smiles himself at The Bloomsbury Ballroom in January when he was named winner of the Best Non-Musical Wedding Entertainment category.
"I was surprised, excited and very happy," Darren told us of his win. "I honestly had no idea and the competition in my category were all very talented, so I'm really proud to have won the national award."
Many attendees at the awards ceremony got to see Darren in action, as even on a night when he could legitimately have let his hair down and partied all night to celebrate, the award-winning magician still found himself wowing crowds who congregated around him with his sleight of hand tricks.
"It was a great night and we really enjoyed the music," Darren recalled. "Elle and the Pocket Belles were amazing and of course the band later in the evening were fantastic as well. The Lanson champagne was gorgeous and almost a little too easy to drink!"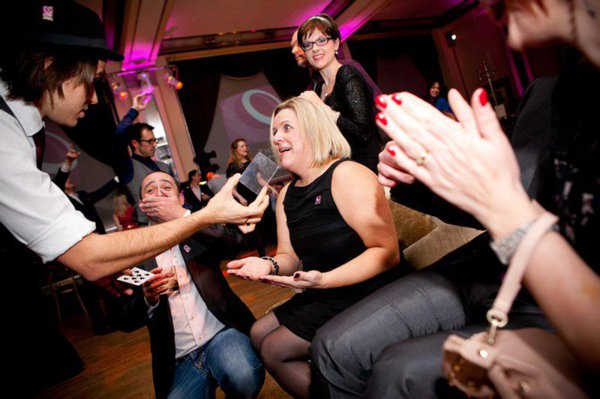 Having honed his skills in his family-run restaurant, Darren has gone from strength-to-strength as he has sought out new material and honed in on the specific forum of weddings to build a rapport with audiences of wedding guests.
"I think a lot of people have preconceptions when it comes to magicians, so I have really focused my efforts on the wedding industry in order to bring a slightly new approach and fresh style," Darren said. "Weddings seemed the ideal platform for my entertainment because they're interactive, engaging and really great fun."
Darren is only too aware that the couples who book him have got to have not only complete faith in his ability as a performer, but also in his people skills and personality in order to appeal to every single person at their wedding. This was not lost on the judges who were impressed by the endless feedback from voters citing the magician as a true gentleman with a great sense of humour and very professional manner as he wowed guests with his unbelievable magic.
"From what I could tell from other suppliers at wedding fayres, they hadn't really encountered many other magicians so it was the perfect time for me to make my mark," Darren explained. "I now exhibit at a number of wedding fayres myself because I think it's very important for couples to meet me to experience not only what I do, but my approach and style as well."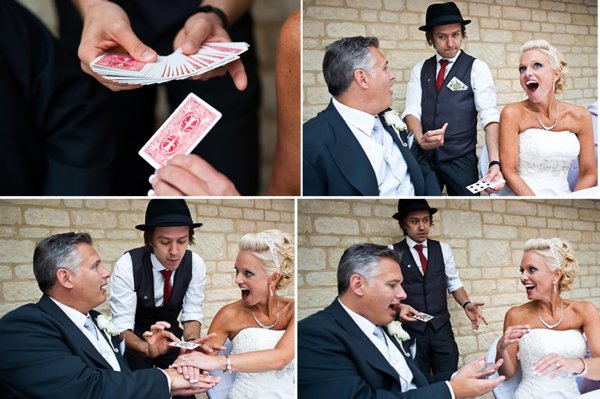 Credit: Jez Dickson Photography
Indeed, since winning the Best Wedding Entertainment award and proudly displaying it on his stand at wedding fayres, Darren has encountered many potential clients asking about it. "Once I've explained the whole judging process and that it's voted for by past brides and grooms, they are genuinely very impressed.  On the whole I think couples feel as if they are in safe hands working with an award-winning supplier."
The couples who had already booked Darren as their wedding entertainment have flooded his inbox with congratulatory emails and have been quick to spread the word that not only is the magician they've hired great fun, but he now also comes with the accolade of being a national award winner.
"I immediately noticed a lot more followers on Twitter combined with a few enquiries who had heard of me through the awards," Darren said. "Other suppliers have been promoting my win via Twitter and their blogs, which I am very grateful for, and hopefully I'll be able to gain more contacts within the wedding industry whilst growing my business."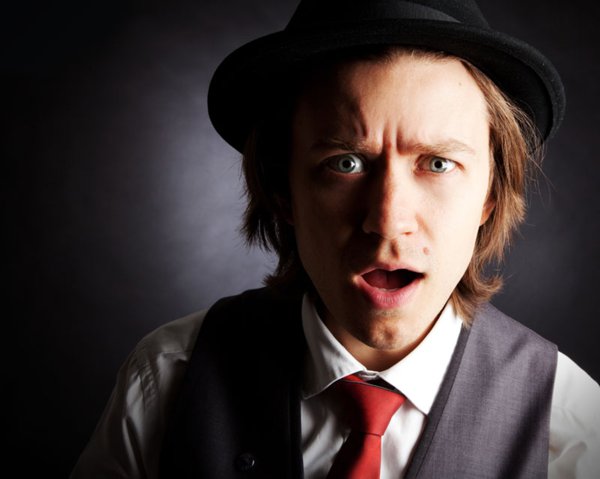 For anyone else considering entering The Wedding Industry Awards 2014, Darren is keen to express the importance of efficiency when approaching clients for their votes.
"I would just say make it as easy as you can for your clients to vote for you," Darren advises. "I sent a link as part of my follow up e-mail after their honeymoon to thank them for hiring me; toward the end of the email I mentioned the awards and said it only takes a few minutes of their time and then put in the link."
Based in the South West, Darren is now seeing a wider demand for his unique form of magic, with his tricks being sought after further afield by a wider audience of mesmerised fans.
"It really means a lot to have won the Best Wedding Entertainment award," Darren said. "I have worked hard to really push myself to become an expert in wedding entertainment and to have recognition of this is very rewarding."
You can find out more about Darren Campbell: