How to make the most out of your TWIA journey
|
One of the main reasons people enter TWIA is to raise their profile in the wedding industry; to stand out from the crowd. See what I did there?
TWIA is a great way of doing this but in order for it to work effectively, you need to make it work for you.

Social Media; we all know it's important but we have no real idea what to do with it, right? The main thing to remember is that your audience craves engaging content. In fact Facebook and Instagram rewards users who regularly show content with which their audience regularly engages. Do this on your platforms and you'll tickle their algorithms right where they love it and your posts will get shown to more of your audience, more often, as a result.
By entering TWIA you are taking the brave, self-confident step of putting your hand up as one of the best in the business. This is an incredibly positive message in itself and is the start of a whole load of amazing content that you can generate with which to engage your audience(s).
In this post, I'll run through a few things to help you do this and to ensure you get the most out of your TWIA experience.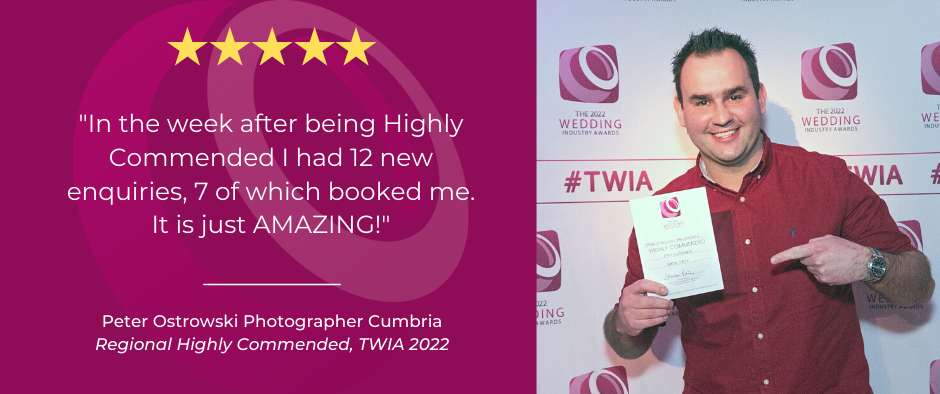 TELL YOUR STORY
Your audience and followers crave interesting and engaging content; it's the Holy Grail of Social Media.
Your journey through TWIA is perfect for this:
Just entering TWIA is exciting news. You'll be one of the few wedding suppliers in the country who have the self-confidence to enter TWIA.
Your journey through the TWIA process over time produces increasing content as you go along. Logos, votes coming in, the start of the judging process etc…
If you become a Regional Finalist and attend the Awards even in your Region there are loads of photo opportunities etc. Same if you get to the National Awards Event too.
If you win (Regional or National)…just imagine!
In short, your audience and followers will love to see that you have entered and follow your progress. The confidence you show by entering will bring increased confidence in your business which can lead to more bookings. They'll talk about it and in an industry driven by word of mouth, this is very good news for you and your business.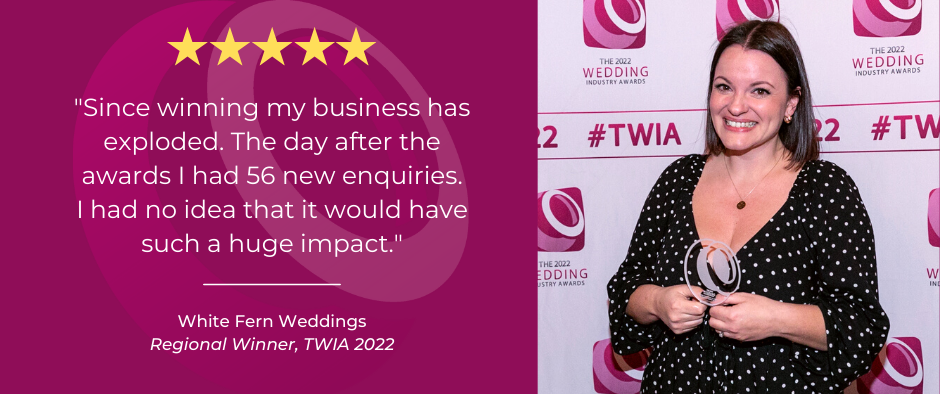 DOWNLOAD AND USE YOUR TWIA LOGO
The first step is to download and use your TWIA 'I/We've Entered' or 'I'm/We're In!' logos. If you have been Nominated, please email us for your Nominated logo.
Download it from your Judging Profile Admin Dashboard.
LOG IN HERE IF YOU HAVE ALREADY ENTERED TWIA 2023
Add the logo to your web site and your email signature.
Post the logo on social media. Make sure you use #TWIA and #TWIA23 so we can see it, like it and share it with our audience too.
Write a blog post about why you've entered etc…
Now, I know what you are going to say…
"It feels like I'm boasting. No one likes a boaster!"
"What if I don't win? It'll be really embarrassing."
Don't worry; we understand. We are British and don't like to stand up and shout about how good we think we are.
But sometimes, you just have to…
ISN'T IT BOASTING?
By entering TWIA you have put your hand up as one of the best in the business. That takes considerable self-confidence and courage. This, in turn, gives Brides and Grooms (or anyone organising a wedding) confidence in you and your business which can lead to more enquiries and more/better quality bookings.
This is not boasting, it's marketing. You are using the considerable differentiation that TWIA brings to help promote your business. Why wouldn't you?
WHAT IF I DON'T WIN?
I hear you on this, but if you don't bring people with you on your TWIA journey you won't so easily see the benefits of being involved.
If you don't win you can still share this with your audience in a positive way, like this for example:
"Well, it wasn't my year this year but I am going to continue to try to improve every aspect of my business and come back next year and try again. Thanks you to all my amazing couples who voted for me; I have loved working for you all this year."
…or something like that! It gets in front of the story and turns it into a positive narrative. This also takes bravery and self-confidence; attractive qualities as already mentioned.
If you do win but you haven't told anyone about TWIA until that point then you have missed the previous month's promotional opportunities. If you do win then the story (and content) continues.

NOMINATE EACH OTHER
Nomination is simply a means by which anyone can tell us about any great wedding supplier they know. It's not the same as Entering them into the Awards and it's not the same as Voting. The wedding industry is made up of hundreds if not thousands of small groups of wedding suppliers who recommend each other. It starts with Venues and their list of recommended/preferred suppliers but spreads right through the whole industry. How many times have you been asked if you can recommend X or Y?
Why not Nominate your network of suppliers? It takes 5 minutes and you'll be able to bask in a lovely warm glow, safe in the knowledge that you have done your good deed for the day; WAY more than if you just tell them they should enter. Complete the Nomination form on our web site and we email the Nominee to tell them you have Nominated them and ask them if they want to enter the Awards. The fact that you have taken the time to do so will make their day!
Some of you may become finalists, some may become winners. Either way, if, the next time someone asks you for a recommendation, you can suggest a TWIA Nominee, Finalist or Winner or a selection of them, how great would that be for your network and the couple concerned?
Go ahead. Nominate someone right now!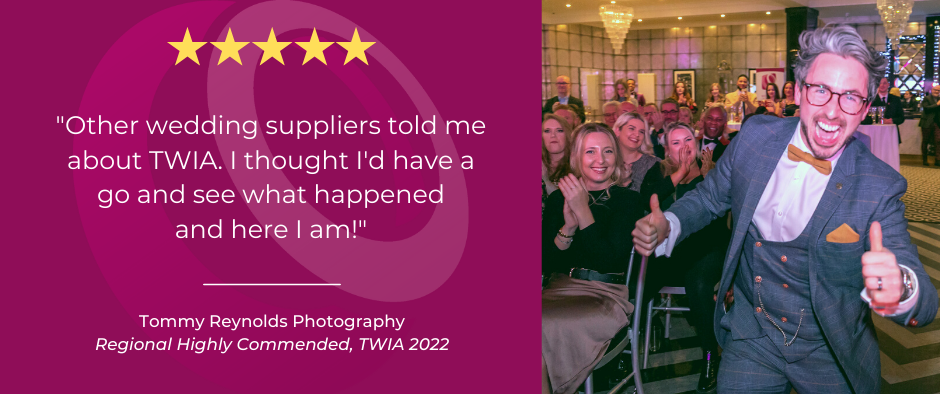 SHARE EACH OTHER'S TWIA JOURNEYS
If you know others who have entered TWIA, tag them and share their journeys and ask them to do the same. There is strength in numbers and you will benefit from each other's exposure in TWIA.
Encouraging your industry colleagues to enter TWIA (see below) and then sharing each other's content can be extremely powerful.
I bet you have a small circle of suppliers that you love working with and recommend. A great photographer, make up artist, hair stylist, florist, band etc. Run a venue? Encourage your preferred supplier list to enter with you.
If you all enter and then commit to a concerted marketing plan and strategy based around your TWIA journeys the results could be incredible.
You could have a little photo shoot and send a brief write-up to your local paper. They are always looking for interesting content. If you become a finalist or win then a follow up article is a no-brainer.
You recommend each other, now support each other in this exciting journey.
If you haven't already, ENTER TWIA 2023 today, and begin your journey.