Best Wedding DJ Category
|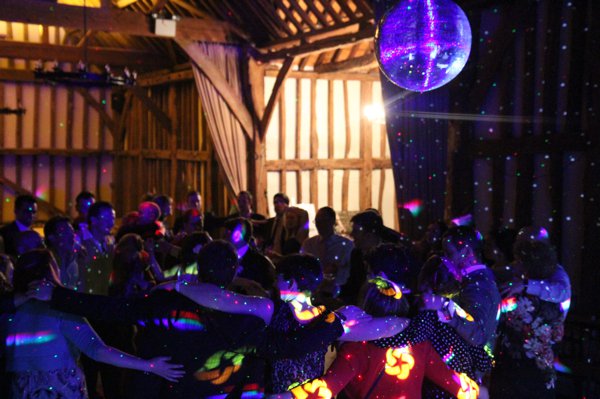 Mighty Fine Entertainment, 2013 National Winners
It's not until you've been to a wedding reception where the chorus of 'Brown Eyed Girl' has played on repeat for 20 minutes that you can really begin to appreciate the unique skill set that bona fide wedding DJs bring to a party. The Best Wedding DJ category in The Wedding Industry Awards intends to recognise the hard work of those disc jockeys who really do have their fingers firmly on the pulse of popular music, of what's popular and of what their clients want.
It's not easy trying to curate a playlist that appeals to toddlers who go mad for Katy Perry and grandparents who want to hear some old time classics. We know that wedding DJs often have to tread a fine line between disparate musical tastes and that whilst Robbie Williams might get one side of the room on their feet, it will almost certainly ostracise the ACDC fans on the other side of the room. We know that as cool as the playlist might start out, by the end of the night all anyone wants is a singalong and suddenly everyone does know the words to Oasis.
We know that contemporary couples are increasingly looking for the types of DJs that they would expect to see on a night out. Cheesy uncles on a single deck console playing the Birdie Song have been replaced by hipsters who DJ from laptops, iPods and phones, who come with an entire sound and lighting rig and perhaps look like they've just flown in from Pacha.
But in addition to creating the right atmosphere, looking the part and appealing to everyone's tastes, there's also that small matter of a first dance. Wedding DJs are often the ones responsible for sourcing the most obscure of requests that their newlyweds want to dance to. They've got to time it just right and they've got to make sure it segues seamlessly into the rest of the evening.
The Wedding Industry Awards judging panel often read effusive comments about wedding DJs that expound on how they got to know their couples and provided a tailored service to the newlyweds' musical preferences. It seems, therefore, that modern couples don't just want a pre-selected playlist, but a DJ who is personally invested in playing what they want to hear, taking on board their suggestions and judging the mood of the room on the night.
You could say that, ultimately, the Best Wedding DJ category is based on who can create the best party. The most enthusiastic comments undoubtedly come from couples who danced the night away and whose guests didn't wander off to the bar but kept the dancefloor jumping all night long. It's not easy coming into a wedding reception later in the evening when everyone's a bit full of food and feeling a bit sleepy and trying to get them to party, but the ones who manage to successfully achieve this week after week are the ones who ought to be part of the Best Wedding DJ category.
If you're one such disc jockey who works hard to create the best beginning to your clients' marriages with an amazing party, then you can take part in TWIA 2014 by heading to the website and entering the Best Wedding DJ category. If you'd like to recommend a DJ who you think is worthy of an award, you can nominate them over on the website as well.