2015 Winner's Words: Paperknots
|
Vital Statistics
Who: Lisa Butler from Paperknots
What: Best Wedding Stationery
Where: Online www.paperknots.co.uk | On Facebook | On Twitter
Why did you enter TWIA 2015?
I've always followed The Wedding Industry Awards and dreamed of being a part of it one day but was always wary about putting myself forward for such a prestigious award knowing the level of talent there is in my category. It wasn't until two of my brides nominated me and emailed me with the loveliest words of encouragement and praise that I stepped back and thought 'perhaps now is my time'. I cannot thank them enough for giving me the confidence to go for it!
Tell us about yourself…
I've loved everything to do with paper and design for as long as I can remember. A passion for beautiful packaging meant I took my degree in Packaging design and subsequent first job as Packaging Designer. I then moved into commercial Graphic Design, progressing up to Design Manager during my ten years in design companies before setting up Paperknots in November 2012.
My career history and fascination with all things pretty probably gives you a good understanding of where my love for wedding stationery comes from. For me, receiving a charmingly presented wedding invitation is like receiving a beautiful little gift from the couple. I love the fact that it gives the first insights and detail into someone's big day.
I think one of the best things about my job is the versatility – because I offer bespoke stationery too, each brief is different from the last and I love getting my hands on new ideas. It's the feedback from clients that keeps me smiling day-in day-out – it's always nerve wracking sending out initial new designs but hearing/reading the positive reactions can keep me smiling for hours.

How confident did you feel about winning?
If I'm honest – I wasn't very confident at all! Winning the regional blew my mind and when I saw the finalist list for stationery and all the fabulous stationers packed into it, I thought to myself, 'Oh well, it's still a great achievement to have won the London regional'. The level of talent was so high, including companies I have such great respect and admiration for. I missed my regional event as I was in Brazil at the time, so I was just excited to go and have a great night with some lovely wedding industry friends.
When I found out that I had won, I just stood there with my hand over my mouth in shock until my boyfriend gave me a little nudge to go up on stage and collect my award. My legs were like jelly for quite a while after.

What does winning The Wedding Industry Awards mean to you?
There are so many things I could list here. The first has to be that it's a great big confidence booster. It's my clients that have made this possible which means I must be doing something right to gain all their votes and amazing words of praise. It means the world to me that they are happy – it really has to be one of the ultimate goals for any business
And if that isn't enough to make you feel great about what you do, the icing on the cake is the fact that a group of independent industry experts (having seen the products up close and personal) give their opinions which are taken into account on the decision making process. So you get a double whammy of great client feedback and subjective validation of your work by industry leaders.
I'm so proud of this achievement and it just makes me want bigger and better things for Paperknots and my clients.
How has winning an award affected your business?
The boost in web hits, social media interaction and stationery enquiries has been phenomenal. Having the TWIA badge of recognition on my website/email can only give nothing but reassurance and confidence to clients looking to book with Paperknots. In my opinion, being able to show potential clients that you are a national winner is like having a personal recommendation from an industry expert.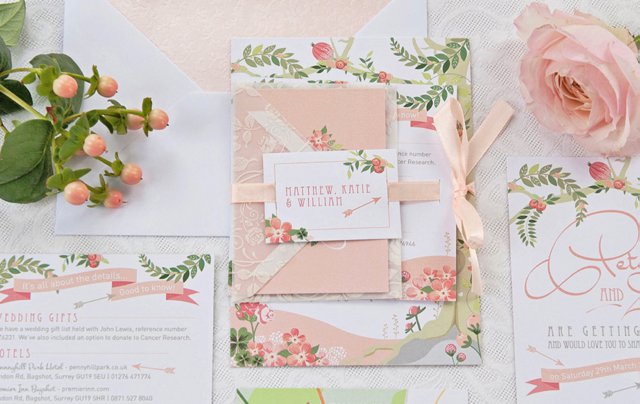 What has been the most valuable part of TWIA 2015 for you?
Besides the warm feeling of pride and giving me a boost of confidence, it's also been incredible for a boost in sales! For days, weeks and now even a month after the award I've noticed a huge increase in my website hits and social media followers, which has subsequently led to a flurry of new enquiries. It's also helped Paperknots to become more recognised within the industry, which I'm sure will also lead to wonderful things.
What was your favourite feedback from your voter comments?
I loved them all! There are so many absolutely marvellous comments to choose from (which I've shared on my own blog) but I'll leave you with this one:
"Lisa at Paperknots is nothing short of a stationery wizard. From the initial consultation where I revealed my brief to the delivery of the bespoke table plan to the venue & tying the 120 lanyards to the fairy-lit board, Lisa came up with the most fantastic ideas & delivered exceptional & exciting results. I received photos from guests on the day the invites arrived saying they'd felt like they'd received their own gift! 500 words isn't enough to describe the Paperknots service!!"
What were your highlights of the evening?
The ceremony was so much fun and TWIA had really gone to town on making it a night to remember. Café de Paris was a fantastic venue choice and I loved the band, the yummy nibbles and the great atmosphere throughout the night. People in the wedding industry always know how to party well!
Final thoughts?
The best advice I can give is to do what you do to the very best you can do it. The smallest things and little touches mean so much to a couple dealing with many other suppliers in conjunction with yourself, at what is no doubt a very stressful time for them. It's those suppliers that go that extra mile which they'll remember – and I never believed this more so than after reading my client feedback comments after winning this award.