Looklook Photo Booth at The Wedding Industry Awards Ceremony
|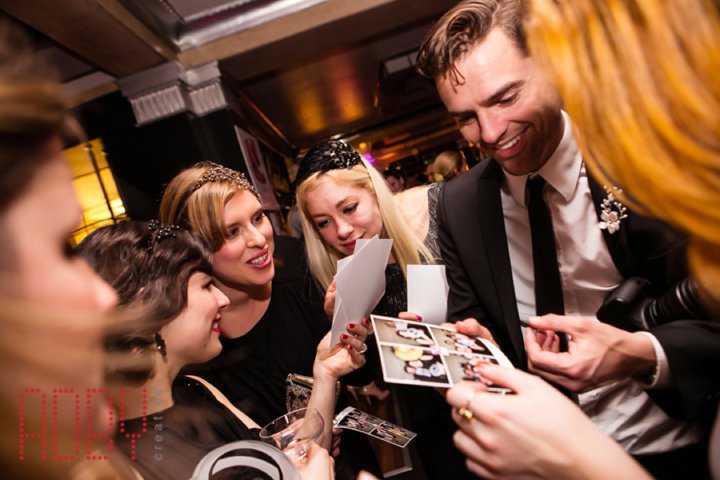 In many years from now, some alien life form will scour this planet for traces of an extinct human life form. They'll marvel at the pyramids, wonder at Stonehenge and puzzle over the Great Wall of China. Amongst the detritus of our existence, they will try to fathom what we were like as a people, what amused us and what made us tick. And amongst the rubble of our species, there'll be inexplicable phenomena such as these pictures from the Looklook photo booth at The Wedding Industry Awards ceremony.
If photo booths could talk, it's pretty certain they would have some fairly raucous stories to tell and perhaps some that are not quite suitable for baby alien ears. Last Wednesday, the Looklook photo booth clocked up 589 images of our revellers in various states of celebration, jubilation and inebriation. Audible cries of, "I am Batman!" seemed to populate the air as guest after guest dived into the prop box and emerged as the dark knight. Subjects struck myriad poses, sometimes getting caught between takes in the most compromising of positions.
Of course, we all know that photo booths are a hugely popular form of wedding entertainment these days, but it seems no one likes to get in front of the camera more than wedding industry professionals themselves. We thought we'd share some of the highlights of the night with you and have taken the liberty of segregated the images into the five main types of posers…
The Cheeky Ones

The Slightly Terrified Ones

The Ones Who Can't Put Their Awards Down

The Camera Shy Ones

The Amorous Ones

You can see the full gallery of images over on the Looklook website, where you can also find out more about the three different types of photo booths they offer and how to go about hiring them for your event. As you can see, they certainly have a way of bringing people together!
We'll leave you with the bonus category of The Drinking on the Job Ones…those guys from Sternberg Clarke sure know how to party!