New TWIA Judge: Erin Hung
|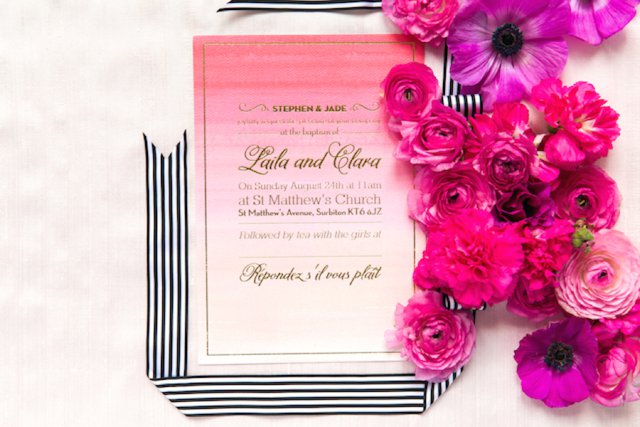 Here at TWIA HQ, we can't stress strongly enough how seriously The Wedding Industry Awards judging panel take their role – there is a great deal of personal time and hard work that goes into creating both the regional and national shortlists, as well as the winners, so we're always grateful to our judges for lending us their experience and knowledge to create a fair and rigorous judging process.
This year, there are a few brilliant introductions we need to make. Erin Hung of BerinMade made a splash in the wedding industry when she won the Best Newcomer award during her first year of business. In a few short years, BerinMade has become a go-to name in artisanal wedding stationery, with coverage from just about every media outlet you can think of! We caught up with Erin to find out a little bit more about our latest judge in the Wedding Stationery of the Year category…
When you were studying for your Fine Art degree and masters in Contemporary Art, did you think you would end up running your own business?
Looking back, I think I always knew that I would do something "unconventional." I used to work at a high profile auction house for their contemporary art department, but even though it was fast-paced and challenging, the idea of sitting at my desk all day really ate away at me. I liked the idea of making up the rules as I go along, in a way that the corporate art world would never allow.

What does a 'typical' working day look like for you?
Everyday varies a lot depending on what season we are in.
Typically, I start the day at 6:30-7:00am. My toddler Phoebe is the most effective alarm clock I've ever had. We spend a couple of hours with her until her nanny comes in. I scroll through emails on my way in to work and take note of anything urgent.
At 9:30am, I have a quick coffee meeting with my assistant and we go over the items for the next few days, to ensure we're organised and ready to take on our tasks. My amazing assistant Su-Ann now takes care of a lot of the admin work so I can focus more on the big picture work. Even so, I spend a couple of hours each morning answering emails as I like to stay personally friendly with contacts such as magazine editors and industry buddies—to me, this is really important as our business cannot exist in a vacuum, so I really cherish these relationships.  I also compile my to-do list while I go through my inbox, organising things by urgency and throughout the week. At noon, I grab a quick sandwich and have a natter around the office. When days are less busy, I nip down to the gym and run for half an hour.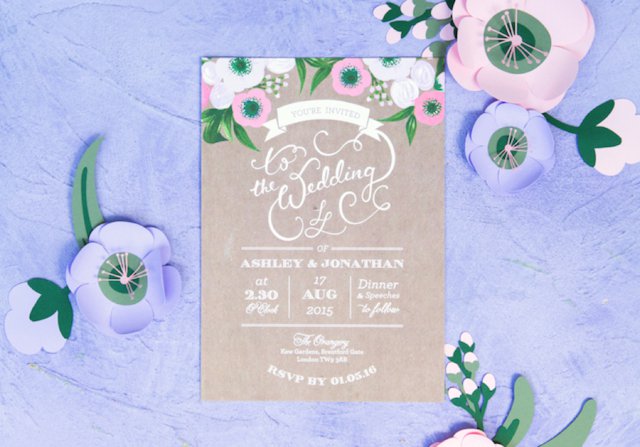 By 1pm, I have a clear idea of the main things I have to achieve that day. During wedding season, I do a lot of custom wedding work, and in the run up to the trade season I design our greeting card and gift collection. Other days, I work on DIY projects for blogs, as well as pitches to brands, styling our own product shoots, overseeing our catalogue design as well as any other areas that need creative direction. There are a lot of balls to juggle, and almost never enough hours, but I love it as I never get bored!
I work solidly through the afternoon and don't really stop for a break. By 5pm, I spend 15 minutes going through my progress that day, and compiling a to do list for the next day. I leave promptly at 5:15 when domestic madness takes over!
What have been your career highlights?
TWIA has, for certain, been one of the bigger highlights. Securing our first publishing deal with Chronicle Books (due to release in 2016), being stocked in really amazing stores such as Selfridges and Liberty of London, and receiving my first "big budget" wedding brief. Having said that, we try to cherish the smaller highlights too—it's often a series of small achievements that lead to the big ones so we stay thankful and positive throughout.
You've had a lot of coverage in a broad spectrum of wedding publications, from blogs to magazines. How did you go about getting your name out there?
There's no magic formula but I would give three tips.
Be persistent—editors are really busy people so just stay friendly (without being pushy) and don't give up even if you don't hear a response. Regularly send out personal messages (not press releases) with your product updates and send samples through the mail. We also send personalised gifts once in a while that are related to our product launches.
Have hi-res images and samples ready—we always highlight the fact that we have hi-res images in both styled and cut outs ready to download at a moment's notice. Just make things as easy as possible for them to work with you, and make it a pleasure.
Be creative—publications are always looking for a new slant on how to feature products for brides so instead of just pitching your products and saying "look how amazing my stuff is," angle it so it reads "here are some useful/beautiful/resourceful ideas for your readers! (Side note: look how amazing my stuff is!)" It's always a give and take exchange where both sides can benefit—who doesn't like to be in a national magazine? Editors hear a lot of boring pitches, so make it fun and different, and you'll stand out from the crowd.
How do you think TWIA can benefit new wedding businesses?
The great thing about TWIA is that you don't have to be a massive business to win, as they work on the percentages of your client votes (as opposed to the overall vote count). It also means that the awards don't become the dreaded popularity contest. It's purely based on you, your work, how much your clients love you, and what you can bring to the sector in the market that it doesn't already have. You have nothing to lose by entering! At whatever stage you get to in the competition, you can list that achievement on your website and email signature to bring credibility to your brand.  You get to hear what your clients think about you, so you can improve your business and do more of what they love—to me that is gold!
How would you compare where your business was before winning TWIA to where it is today?
Wow! A lot has happened in just three short years, I have to say! Prior to winning the Best Newcomer Award, I was running the business by myself with a small wedding collection. Since then, my husband has joined the business, and we now co-head a small team in the heart of London where we focus on over 100 wedding projects a year, and also have a fulfillment warehouse in Leeds where they are in charge of shipping out and taking care of our wholesale accounts for our lifestyle and greeting cards division.
Now that you're a judge, what have you been looking for from entrants?
We've seen a lot of great stationers this year! It's a competitive category and the voter scores are generally very high. I'm looking for a brand to fall in love with—someone who lives and breathes their work, and really believe in what they're doing. I'm looking for a portfolio that is strong and coherent, price points that hit the right audience without undercutting other businesses, and a confident brand aesthetic that looks and feels refreshing.
How do you think new wedding stationery designers can stand out from the crowd?
Be passionate—live it, breathe it, and believe it. Sooner or later, others will believe it too.
If you would like to connect with Erin, you can visit her website, follow her on Twitter and Instagram, or like her on Facebook!