Guest Post: The Trend for Vintage Wedding Hairstyles
|
Today's Guest Post is brought to you by Chris Fordham of Fordham Hair Design, regional winner of the South West Best Wedding Hairstylist Award in 2012.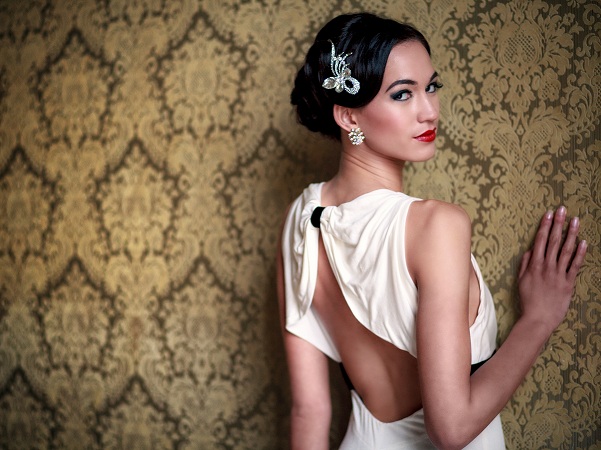 As a bridal hair specialist I'm often asked what the 'on trend' looks for bridal hair are. For the last few years the bridal industry has been heavily influenced by vintage styles, primarily from the 40's and 50's, but all this has started to change, mainly due to our love of television period dramas and films.
The moment that Downton Abbey graced our screens the nation fell in love with the whole Edwardian and 20's vibe, the fashion industry embraced 20's style clothing such as fur wraps (faux fur these days though!) and the hair industry realised that this was a complete style era that we were crying out to take inspiration from.
I was recently asked to create the hair for a bridal fashion shoot at Grittleton House, which was using the 1920's as the inspiration for the look. The original hair aesthetics of the time included strong waves, geometrical bob styles and soft up do's; the modern interpretation of this is to create soft updo's with waves that give a nod of recognition to the original looks and use vintage-inspired or even original accessories to add the finishing touch.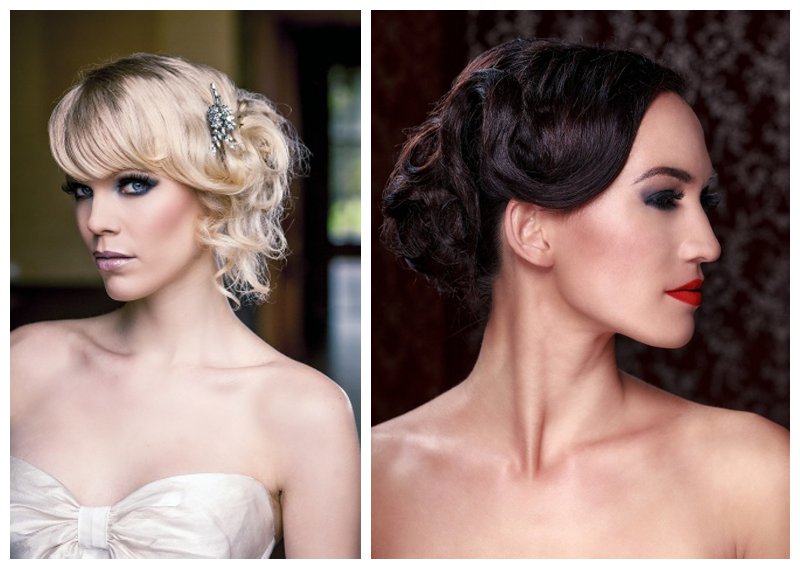 A wedding day can obviously be an expensive thing to organise and the hair styling is something that some brides or bridesmaids may like to try themselves.  So how does a bride go about styling her own hair for such a special day? Well, I suggest planning a girl's night in with your bridesmaids where you can try out some different styles; one great place to look for help is YouTube, which offers some great hair tutorials.
The secret to using a previous era for style inspiration is to create a modern twist on the look and not attempt to replicate it religiously in order to prevent it looking like fancy dress!
Try heated rollers to add body and waves to keep with the vintage theme.
Once the hair has been curled with rollers, brush it through to create smooth waves on top.
Take the hair to one side and secure with a ponytail band.
With the hair now in a side ponytail, take hold of it and twist around until it starts to coil back on itself and sits on the scalp to form a side chignon.
Secure the hair with plenty of hairgrips; spritz with a fixing spray and then add your finishing accessory.
You may decide to book a professional wedding hairstylist for the big day rather than do it yourself, but this is a great way to try out a few styles and make a nice girly pampering night of it!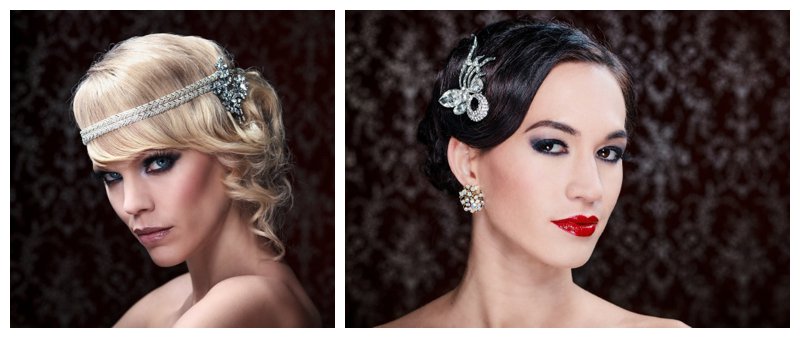 The way that I created these vintage wedding hairstyles look for the Grittleton House shoot was to initially add waves to the hair, which instantly gives a vintage feel. Scooping the hair into the nape of the neck and fixing with hairpins is always flattering (and easy for a bride to do herself); this can be in the form of what is called a 'Chignon' or as a side bun, which is incredibly popular in current bridal looks.
I kept the front of the hair close to the head, as the 20's era didn't have volume near the top of the head.  The final touch was to add a finishing accessory, which is the icing on the cake. There are many modern hair accessories that have taken elements of vintage bridal jewellery and these can be picked up in high street stores or online. I prefer to buy original vintage diamante brooches and jewellery from bric-a-brac shops or eBay, as these are relatively inexpensive to buy and you then have a family heirloom to pass onto your children for their own wedding!
Credits
Photography: Jon & Tina Reid
Make-Up: Katy Pheiffer
Hair: Fordham Hair Design
Venue: Grittleton House