Guest Post: How to Choose a Make-Up Artist
|
Kate Pymm, winner of the Best Regional Make-Up Artist in the North East and Highly Commended nationally in The Wedding Industry Awards last year has re-entered for the 2013 Awards. Here, she shares her top tips with brides-to-be on how to choose a make-up artist for your wedding.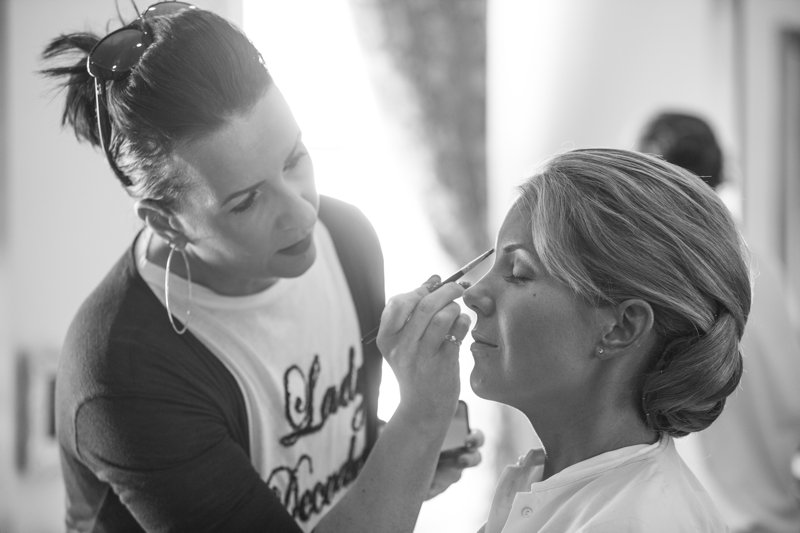 Credit
More and more brides these days are booking a professional to provide bridal styling services, such as make-up and hair styling on the morning of their weddings. As a professional artist, and someone who has styled brides for over 7 years, I know that the importance of having someone to apply your wedding day make-up is essential.
Professional application not only ensures longevity of the make-up throughout your day, but will also add some drama and spectacle to your photographs for years to come. Here are some things to think about when considering booking a make-up artist.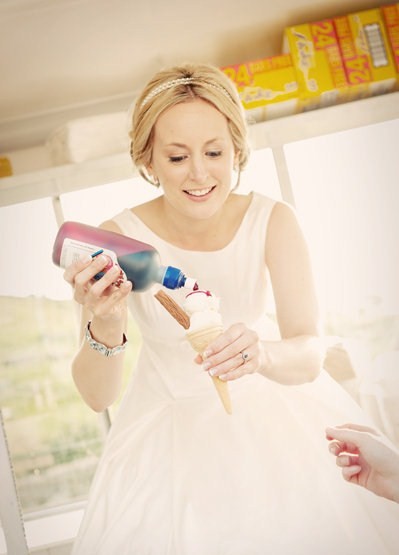 Credit 
A professional artist will be aware that your wedding make-up needs to stay on all day and into the evening, so the correct application and know-how is imperative.
Many professional artists work on other projects such as makeover and fashion shoots, boudoir, TV and film projects and in some cases, including mine, special effects make-up too. It's always beneficial to pick an artist who is versatile, as they will have a variety of skills and tips that they have picked up along the way. They will know products that reflect back on the lens (certain eye shadows and highlighters, for example) and will not photograph well; the perils of too much lip gloss giving off glare; the lens dingle created by glittery products and so on.
Make-up is obviously a personal thing so it's essential that you find a good professional you can trust. It's going to be one of the busiest mornings of your life so you want someone who remains calm amidst the chaos and puts you at ease.
Make sure you do your research. Recommendations from friends, family and work colleagues are a good start and when you do find someone don't be afraid to ask for client testimonials. Quite often a good website of an artist will already have testimonials available to read as well as an extensive gallery of examples of their work.
If a bride requires a good cover up due to skin issues, scarring, tattoos or birth marks, a professional will have the relevant make-up and know-how to achieve this. Quite often the products that are required to do this have to be purchased from specific stockists and are therefore not available to the general public. Certain coloured concealers have to be used other than normal every day ones, but your artist should know how to shade and make your features either stand out or less noticeable, as well as achieve a natural finish.
A trial is incredibly important, and is normally best arranged for 2 to 3 months before your big day. This is where you get to meet your bridal stylist, get to know her/him as well as them meeting you. You will need to discuss your wedding day look and a good artist will assess your skin and quite often recommend homecare in preparation for your big day, as well as offer their help and advice.
A stylist also knows that timing is an issue and so negotiating your schedules and budgets to meet your wedding day timing is critical.  For instance, the bride has to get to the church on time and there may be bridesmaids and the mother of the bride to also style, so a professional will be able to allocate the right length of time per client and gauge the duration of each sitting accurately.
All of these points apply to your bridal hair too.  Again, it's important that you achieve a look that matches your dress, your shape and your theme as well as something that will look timeless on your photographs. A hair trial is also essential and your stylist should advise on homecare, preparation and sometimes even recommend hair extensions/hair pieces for certain styles.
All of these points, along with any questions you might have, should always be determined during your trial runs. As a result, when it comes to the day you will know exactly how your preparation will run and can sit back, relax and enjoy!
To find out more about Kate's work, visit her website, follow her on Facebook or Twitter, or view her entry for The Wedding Industry Awards 2013.