Makeup for a flawless natural look
|
As a world-renown expert and sponsor of TWIA's Makeup Artist of the Year Award, Team Grew – Arbonne Independent Consultant are perfectly placed to offer invaluable advice and guidance for your health and well-being, not only in the run up to your wedding, but also on the big day itself. In the third in their series of posts we turn our attention to makeup.
Every bride wants to look fabulous on the most important day of her life so her makeup should be looked upon as an extension of skincare regime. We know how important it is to help your skin feel nourished, pampered and just simply beautiful, so we recommend using products that combine a mix of moisturising botanicals and age defying ingredients, and suggest the following steps for a perfect long lasting look.
Details of all these products can be seen in the Arbonne Makeup Collection Focus Guide
Primer
A must have essential start to any flawless makeup begins with a primer to help even out your skin tone and keep your makeup in place all day long.  Why not consider a separate eye primer to hold any eye shadow in place as an extra bonus?
Concealer
A liquid concealer with a dual ended brush is an ideal tool to use to hide imperfections, dark circles around the eyes, the appearance of fine lines & wrinkles, and blemishes.
Foundation
Whether you are looking for a photographic makeup look or a natural glowing complexion there are many products on the market that will suit your individual need from a liquid foundation to a mineral powder foundation or simply the use of a light BB or CC Cream.
Powder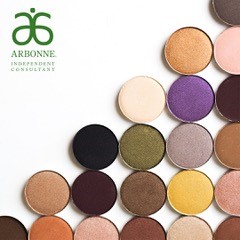 A sheer pressed powder or translucent loose powder,  provide an ideal setting for your chosen foundation.
Highlighter/Bronzer
Every wondered how she got that glow? You need a highlighter, which adds radiance and a soft glow to any complexion.
Want to create some solar flair with glowing cheeks and brow bones? Then a bronzer is a must!
Blusher
A blusher is used to give warmth, depth and contour to the face helping accentuate cheekbones.
Eye Shadow
Every bride is beautiful; the eyes are the window to the soul. Therefore, a good eye shadow with natural hues is an important consideration. Choose colours that complement your natural eye colour, which are long lasting, and preferably formulated with anti oxidant containing botanicals.
Eye Liner

Eyeliner helps promote the appearance of fuller lashes, shaping the eye. A creamy long wearing pencil, which won't feather or bleed is recommended.
Eye Brows
Shape up those brows to give definition to the eye with a long wearing, smudge proof brow pencil, brow cream to tame and tint unruly brows and eyebrow gel to keep fly away hairs in place.
Mascara
Life is an epic tale – start telling it with your eyes, using a high performance lengthening mascara. Creating any look from completely natural to ultra dramatic lashes on your special day.
Choose between a longwearing luxurious lipstick, which will nourish and hydrate the lips and/or a lip-gloss to maximise lip shine. Whether using lipstick, gloss or both, we recommend a lip liner to define & shape lips and ensure longer lasting coverage. Top tip … a moisturising lip treatment, as a primer will keep your lips soft and plump all day long.
Brushes
Lastly, brushes are an important tool to create a perfect bridal makeup. Choose brushes with a super soft feel and wooden handles for maximum hygiene.
Details of all these products can be seen in the Arbonne Makeup Collection Focus Guide.
Never leave anything to chance. Your hair and makeup should always be trialled out before your big day. Do not leave it to the last minute to avoid any wedding day mishaps – we want the bride to arrive on time looking and feeling her very best in order to enjoy every moment of her dream wedding.
For AMAZING discounts and free product on qualifying orders email Jo at Team Grew – Arbonne Independent Consultant stating full contact details including name and telephone numbers.