How to make sure your skin is glowing on your wedding day
|
In the second of their series of posts offering fantastic advice to anyone organising a wedding, TWIA Makeup Artist of the Year Award Sponsor Team Grew – Arbonne Independent Consultant deal with how to make sure your skin looks and feels out of this world on the one day when everyone will be looking.
Have you ever woken up on a special day with a spot or blemish on your nose? Nightmare, right? It's certainly something you don't want in the build up to and on your wedding day.
It is best to prepare your skin months before your wedding day and we know that the fewer chemicals and toxins we put on our skin, the better it is.
Did you know that your skin is your biggest organ? Most makeup and skincare products on the market contain ingredients such as mineral oil, which actually stop your skin from breathing.  Most people use expensive makeup or skincare but are not actually aware of the ingredients and the toxic effect it can have on the body.
The Genius Ultra is perfect for this, especially when used in conjunction with Arbonne's clinically tested anti-ageing skincare products, like the RE9 Advanced Intensive Renewal Serum, RE9 Advanced Lifting and Contouring Eye Cream, and Arbonne Intelligence Lip Treatment. The Genius Ultra offers the ultimate next generation solution to help target the signs of ageing and achieve youthful looking, radiant, healthy skin as it helps apply the product more evenly.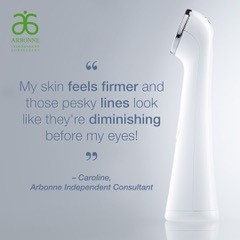 If you use products that are pure, safe and beneficial you can ensure that your skin is breathing and not getting clogged up with product causing blackheads and spots. All Arbonne products are vegan and contain fabulous botanical ingredients such as orange stem cells, powerful peptides, alpha hydroxyl acids and sea buckthorn.
Start by cleansing your face day and night with a smoothing facial cleanser, a pearlescent cream formula that washes away makeup and everyday impurities, leaving skin feeling soft, smooth and nourished. Key ingredients are Mondo grass root extract, red clover extract and watercress extract.
Follow on with a regenerating toner to refresh the skin, removing excess oils and dead skin cells, as well as minimising the appearance of pores, and preparing the skin for the next steps. The key ingredients are witch hazel, Mexican hyssop and Vitamin B.
Feed the skin with Intensive Renewal Serum, which contains powerful antioxidants to protect the skins surface from future signs of ageing and restore a youthful looking glow. Its concentrated formula reduces the appearance of fine lines and wrinkles whilst giving the skin a more lifted, firm appearance. Key ingredients are marine lavender extract, beech tree bud extract and Vitamin B3. A perfect product to combine with our award winning Genius Ultra.
Our premium best selling product 'The Genius Nightly Resurfacing Pads' gently exfoliate to promote cellular turnover at the skin's surface to brighten and help significantly reduce the appearance of dark spots and fine lines. Key ingredient is a Retinoid solution.
Use Corrective Eye Cream to reduce the appearance of key signs of ageing such as puffiness, fine lines, deep wrinkles and dark circles. Key ingredients are olive squalane, vitamin B and caffeine to reduce puffiness.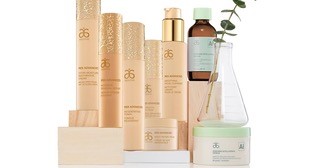 Moisturise the skin with Restorative Day Cream with SPF 20 offering UVA/UVB protection. This unique botanical complex hydrates; smooth's and firms the skins appearance whilst helping reduce the appearance of fine lines and wrinkles. Key ingredients are Vitamin E, Kudzu root, cucumber extract.
At night use our ultra hydrating Night Repair Cream that will work overnight to deliver soft, supple, plumped skin by replenishing moisture and providing nourishment while you sleep. Key ingredients include Vitamin B3, beech tree bud extract and hyaluronic acid.
Completing a daily am and pm routine will ensure that every bride's skin will shine on her special day with a glowing, flawless complexion ensuring that she feels confident and enjoys every precious moment.
For an amazing 40% discount and free product with this initial order email Jo at Team Grew – Independent Arbonne Consultant using TWIA–2 Discount Code, stating full contact details including name and telephone numbers.
TOP TIP FROM TEAM GREW (Beauty, Health & Wellness Consultants)  – drink 6-8 glasses of water daily to flush out toxins and rehydrate your skin.